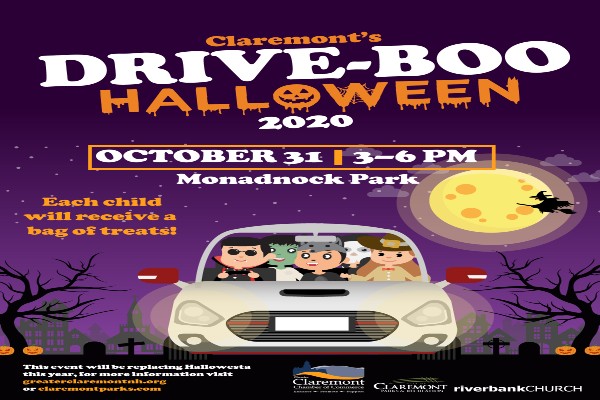 Claremont's Drive-Boo Halloween 2020
Saturday, October 31, 2020 | 3:00 pm
3:00 pm
The Parks and Recreation Department, Chamber of Commerce and Riverbank Church are hard at work preparing an alternative to the traditional Hallowesta event on Pleasant Street. Due to the pandemic and the large number of participants the Hallowesta event draws, this year's version will be a drive-thru event held at Monadnock Park from 3 to 6 PM on Saturday, October 31st 2020 with participation from local individuals, businesses and nonprofits. This will be a fun thrill for the entire family with treats and spooky surprises throughout your journey. More information will be coming soon, please visit claremontparks.com in the coming weeks. We hope to see you there!
*Notice: The Claremont Parks & Rec. Dept. is looking for candy and/or monetary donations for this event. If you or someone you know would like to donate, please contact the Claremont Parks and Rec. Dept. at 603.542.7019. The CSBCC is accepting candy donations during our hours of operation!
---
Location:
Monadnock Park
29 acres that is the hub of athletics during the spring/summer/fall months in the Claremont, NH community. Home of the Coach Parker Sports Complex.
190 Broad Street
Claremont, New Hampshire 03743